Yesterday was my 24th birthday. Today the following remarks were made, in quick succession, by the ladies with whom I work...
1) [Backstage info: I had a long piece of red material tied around my neck like a cape, yes, I know, the ceaseless fun we get up to in Key Stage 1.] "Aww, you look like a bride! Go on, practice doing the walk for when you have to do it for real."
2) [Backstage info: I was putting a plaster onto a poorly finger] "Ee, this will be good practice for when you're a mother."
3) "So, have you decided to become a teacher yet?"
4) "So I was thinking, why don't you train as a child psychologist?" [I make the diplomatic reply; "Who knows, maybe I will
one day
."] "Look, I just think it's about time you decided what to do with your life."
So take heed, girls. Twenty-four is officially the age where you are required to stop buggering about, catch a husband and produce a litter. Evidently it's too late for me - enjoy your youth while you still can!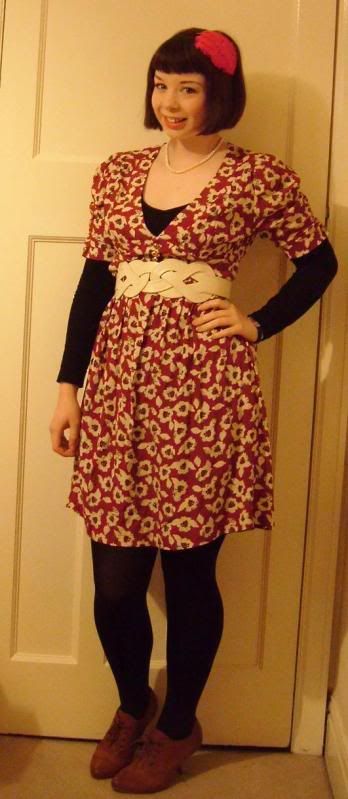 Sensible, grown-up outfit (snort), courtesy of my splendid sister and her uncannily brilliant birthday present-buying skillz. See that belt? Almost exactly the same as my favourite vintage belt that broke because I'm a fatty because the leather was old and weak! I think the ensemble would look better without the black bodysuit (it's tights and a t-shirt, but I think it looks disconcertingly like I'm wearing a leotard under my dress!) but Newcastle seems to have moved to the North Pole today. Brr.